1.The "Crisis Management Stage" at Hokusei Gakuen University
Hokusei Gakuen University's first priority in responding to this crisis is to protect the lives and health of the faculty, staff, students, and their families , and to minimize the risk of infection from the new coronavirus and protect a safe and secure campus.
In order to respond more appropriately and flexibly to this crisis, we have set the "Crisis Management Stage for Preventing the Spread of the New Coronavirus at Hokusei Gakuen University" as a basis for university operations, and have decided to carry out activities in accordance with the stage of the crisis in terms of the faculty's academic response, faculty and staff working system, meetings, students and visitors, and student activities.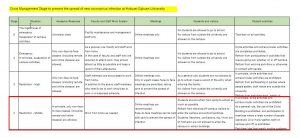 Due to the spread of the new coronavirus infection, the Japanese government has declared a state of emergency and Hokkaido has been designated as a special warning prefecture. In addition, on April 20, the Governor of Hokkaido requested that the university be closed for the period of May 6. The University is now approaching the level of Stage 3 (Limited - Large) from the current Stage 2 (Limited - Medium), and is taking the following actions
It is regrettable that the educational activities of the university will be restricted, but we appreciate your understanding and cooperation in order to protect the "life" and "health" of everyone who comes to Hokusei.
2.Semester Schedule
All semester classes are considered to be "non-face-to-face" classes.
International Exchange Curriculum Course: April 27 - July 31
General courses for degree-seeking (only for students with N2 or higher): April 27 - August 14
During this time, classes will be conducted in the form of remote learning using Moodle and Zoom.
However, classes for the first period (April 27 - May 1) will be canceled on a special basis.
Please note that the actual start of classes will be the "week of May 11".
Classes that have been cancelled will be made up on the " regular make-up day", distance learning, and assignment research equivalent to what is assigned in class..
The last day after the change is July 31.
Please check with your school again to confirm if you have to leave before this date due to your school's schedule or any other reasons. If you have to return home, please contact the International Office.
If you find it difficult to participate in classes from your room due to equipment or communication problems, you may use the on-campus Computer Lab.
3.Important Notes
Request to students and visitors to the university:
・Do not come to school. The use of the Computer Lab (when the PC, etc. is not available at home) is excluded.
・Visitors from outside the university are not allowed to enter the campus or school buildings.
・Students (teachers, contractors, etc.) from out of Hokkaido are not allowed to enter the campus or school buildings.
・In principle, circle activities and extracurricular activities are not allowed.
・In principle, the use of the Circle Building is not allowed.
・Refrain from participating in meetings with a large number of people (generally 10 or more), both inside and outside the university.
・If you go to a part-time job that mainly involves serving customers, be sure to pay close attention to prevention.
We also ask that you continue to do the following:
・Do not go out without necessity and buy daily necessities and food as few times as possible.
・Refrain from going to places like downtown, izakaya, bars, karaoke, and live houses.
・Whenever possible, refrain from traveling by subway or bus.
●Attendance system and office hours for faculty and staff
Hokusei has decided that the work restrictions and work-at-home system will be in place until May 6. As a result of this change, office/administrative staff will work in shifts and have a reduced work schedule. As a result, it may take longer than usual to respond to various inquiries.
In accordance with this, the office hours are now 10:00 a.m. to 3:00 p.m.
However, in the case of urgent matters related to international students (e.g., the occurrence of unwell people in Kirari), the staff of the International Education Office will respond promptly through the security guard, so please let us know immediately if you have any problems.
(日本語版)
「緊急事態宣言」・「特定警戒都道府県指定」・「知事からの休業要請」を受けての本学の対応について
1.北星学園大学における「危機管理ステージ」について
北星学園大学では、今回の危機対応の第一優先事項として、本学に集うこのコミュニティの教職員、学生、その家族の「生命」と「健康」を守り、新型コロナウイルス感染からのリスクを最大限に低下させ、安全・安心なキャンパスを守っていくことを基本方針としております。
この度、今回の危機にさらに適切かつ柔軟に対応するため、教育活動を含めた大学運営に必要な基準となる「北星学園大学における新型コロナウイルス感染拡大防止のための危機管理ステージ」を定め、「教員の教学的対応」、「教職員勤務体制」、「会議」、「学生・学外者」、「学生活動」について、ステージ段階にあわせた活動を行うこととしました。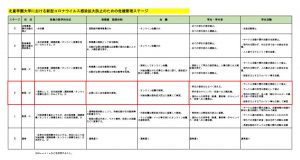 新型コロナウイルス感染症拡大に伴い、政府より全国に「緊急事態宣言」が発出され、北海道は「特定警戒都道府県」に指定されました。さらに4月20日、北海道知事から5月6日までの間、大学の休業要請がなされました。本学では休業要請を想定し危機管理の段階を、現状のステージ2(制限-中)から限りなくステージ3(制限-大)のレベルに近づきつつあるとして、今後の対応を以下の通りとしています。
 本学の教育活動が制限されることは残念ですが、本学に集う皆様の「生命」と「健康」を守り、感染を防止しつつ大学教育を実践していくために、ご理解とご協力をお願いいたします。
2.授業日程について
前期授業期間はすべて「非対面授業期間」でおこなわれます。
*国際交流関係科目授業期間:4月27日~7月31日
*在学生向け一般科目(N2以上所持学生のみ):4月27日~8月14日
この間、授業はMoodleやZoomを利用した遠隔授業の形式でおこなわれます。
ただし、第1週目(4月27日~5月1日)の授業は一律「特別休講」となります。
実際の授業開始は「5月11日の週」になることをご承知おきください。
特別休講となった分の授業は、統一補講日、遠隔授業、授業中に課すものに相当する課題研究等を活用して対応します。
交換留学プログラムの最終日は、7月31日です。
本所属校の日程などの理由でこの日より前に帰国しなければいけないかどうかを、各自でもう一度確認してください。帰国しなければいけない場合は国際教育課に相談してください。
3.注意事項について
●登校、外出について
・登校は極力控えること。実習室の利用(自宅にPC等の利用環境が整っていない場合)を除く。
・学外者をキャンパス・校舎に呼ばないこと。
・道外からの来学者(教員、業者等)のキャンパス・校舎への入構禁止。
・サークル活動や課外活動を原則として禁止。
・サークル棟の利用は原則として禁止。
・学内外を問わず、多人数(概ね10人以上)の集まる会への参加を控える。
・接客を主とするアルバイトに行く場合は十分に予防に注意する。
 
また、引き続き、以下のことをお願いします。
・不要不急の外出を控え、なるべく日用品・食料の買い出しは少ない回数で済ませる。
・繁華街、居酒屋、バー、カラオケ、ライブハウスといった場所に行くことを控える。
・可能な限り、地下鉄やバスといった交通機関を伴う移動を控える。
●教職員の出勤体制と事務室開室時間について
5月6日までの期間、就業制限と在宅勤務体制を行うことを確認いたしました。これにより事務・用務職員については、交代出勤体制とし、縮小勤務体制となります。このことにより、各種お問い合わせの対応について平常時より時間を要する可能性があります。
これに伴い、事務室の開館時間は現在「午前10時~午後3時」となっています。
ただし、留学生の皆さんに関する緊急の事柄(例:kirari内で体調不良者の発生など)に関しては国際教育課職員が管理室を通して迅速に対応するので、困ったことがあったらすぐにお知らせください。